IIt's time to bundle up and head to the local Christmas tree farm to choose the focal point of your holiday decor! You can choose between a U-cut Christmas tree or a freshly cut Christmas tree, as these local farms have worked hard all year to grow these stunning trees. Here's your 2022 guide to Christmas tree farms in Grays Harbor.
447 Cloquallum Road, Elma
November 25: 9 a.m. – 4:30 p.m.
Weekends until December 25: 9 a.m. – 4:30 p.m.
Beerbower Xmas Tree Farm opens the day after Thanksgiving and offers Noble, Tall and Douglas fir trees. With over 13,000 trees, you're spoiled for choice, including a variety of heights – from 2ft to 12ft! This Christmas tree farm in Elma offers U-cut and freshly cut trees.
They have hot chocolate, candy canes and cookies on hand and bonfires to warm you up. They are cash only. For more information, visit the Beerbower Christmas Tree Farm website.
Hedlund trees
371-201 Stasop Middle Road, Montesano
November 25 while supplies last
Monday to Friday: 10:00 a.m. to 4:30 p.m.
Saturday and Sunday: 9 a.m. – 4:30 p.m.
Hedlund Christmas Trees in Montesano has over 30,000 trees to choose from. They have Noble, Fraser, Nordmann, Grand and Douglas firs. Hedlund Christmas trees are award winning and have provided the White House tree twice! Once you have chosen your tree, they will cut it for you.
They have free candy canes for the kids. Be sure to check out their deluxe tree stands, cool wreaths, and artwork from local artists available for purchase. For more information visit the Hedlund Trees Website and when driving, just look for the giant 42ft inflatable snowman!
Hockett's Christmas Tree Farm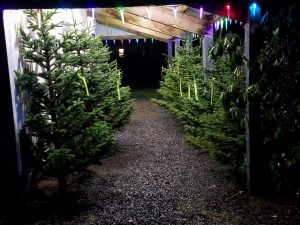 Highway 12 and Timberview Lane, Montesano
November 25 – December 23
Hockett's Christmas Tree Farm offers U-cut and cross-cut services. They offer Douglas, Tall, Noble, and Nordmann trees, as well as wreaths and log reindeer and snowmen. For more information, call 360.249.5209.
KC Christmas Tree Farm
950 State Route 105, Aberdeen
The KC Christmas Tree Farm will be closed for the 2021 season.
National forest trees
If you want to choose your Christmas tree in the state forest, make sure you get your permit first! It only costs $5 and gets you a tree in select areas of Forks, Hoodsport, Quilcene, Quinault, and the Quinault Special Management Area. Trees can't be taller than 15 feet, and there are other rules too, so be sure to read the Recreation.gov website before you leave. Fourth graders can receive a free permit. Each house is allowed up to five permits. For more information, visit the National Forest website.