The time of year is fast approaching when the lyrics of America's most patriotic songs come to life. From broad stripes, shining stars and tiny bombs bursting through the air to the red burst of multiple rockets, it's not just one party in the United States, but several in North Texas. We've already had a few fireworks to get our spirits up this past weekend, but the bulk of the Independence Day celebrations take place this coming long weekend. So whether you're in Dallas, Fort Worth, or one of our many suburbs, you're close to more than your fair share of explosive nighttime light shows. Or head to the shores of white rock lake for one of our favorite places to see multiple shows in all directions. Read on for 14 exciting ways to celebrate America with red, white and blue to spare.
Saturday July 2
Klyde Warren Park
Arrive early and take a section of lawn as your base, then settle in for three hours of music, various vendors and food trucks before gazing skyward for the glittering grand finale.
Cost: The event is free.
Saturday July 2
The colony
Celebrate the 25th Annual Liberty by the Lake Festival with a day of festivities, beginning with a 5k/10k/1m walk/run and patriotic parade. It ended with an evening of food vendors, a watermelon eating contest, a concert by beloved disco cover band Le Freak and a choreographed fireworks display high in the sky above The Colony resort. Five Star.
Cost: All events are free.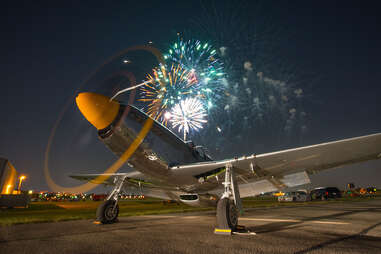 City of Addison Kaboom!
Sunday July 3
addison
Tickets for our region's biggest fireworks display have sold out fast again this year, but you can purchase a hotel package that guarantees admission for up to six people in your party and you won't have to worry. to get home in all that traffic. You can also direct fireworks from the comfort of home.
Cost: Several Addison Hotels offer special rates, starting at $99 (six tickets to Kaboom Town! included).
Sunday July 3
Carrollton
Create your own celebration anywhere near Lake Josey Ranch, which will be illuminated for a 15-minute fireworks show. The beautiful explosions can be seen from the park or in the surrounding neighborhoods. It can also be broadcast live from 9:30 p.m.
Cost: Fireworks are free.
Sunday July 3
Arlington
Downtown Arlington will be lit up from above with an awe-inspiring display capping off an evening festival and setting the stage for the next morning 4th of July Parade.
Cost: Both events are free.
Sunday July 3 and Monday July 4
Lone Star Park in Grand Prairie
Fireworks are synonymous with celebration, and what could be more worthy of that than a great horse racing victory? Spend the afternoon betting on the ponies, then end each day with an epic fireworks display.
Cost: Entrance tickets to Lone Star Park cost between $10 and $65.
monday july 4th
frisco
Immediately following the FC Dallas game, the skies over Frisco will light up with an elaborate fireworks display. View from many nearby areas, or for the best possible spot, get a ticket for the football match which precedes it. Or hang out at Party in the Square for many hours of patriotic fun.
Cost: Party in the Plaza events are free. Tickets at the soccer game and fireworks starting at $25.
monday july 4th
Irving
The town of Irving presents its annual Celebration of America beginning with an early morning parade and culminating with live music, carnival rides, food and drink vendors, and a spectacular fireworks display.
Cost: The event is free.
monday july 4th
Vine
Pack a picnic and head to one of the many parks lining Grapevine Lake for the best views of the fireworks to the sound of patriotic music. To see the map and scroll down for more details, parking fees, and other info, but we highly recommend Oak Grove Park Views.
Cost: Free at some locations, $20 to park at others.
Sunday July 3
Garland
The Firewheel Town Center transforms into an American feast for the senses with several hours of activities including a flag ceremony, main stage entertainment, family activities and a spectacular 22-minute fireworks display.
Cost: The event is free.
Sunday July 3 and Monday July 4
fort worth
Load up your picnic basket and head to the Fort Worth Botanical Garden for two nights of patriotic tunes and the best plazas in town for an extravagant fireworks display that's a treasured tradition in Fort Worth.
Cost: Lawn seat tickets are free – $25; table seating ranges from $46 to $78.
Sunday July 3
North of Dallas
Not everyone likes the loud noises that come with the 4th of July (Dallas dogs, we feel your pain). So instead of exploding pyrotechnic shows, the Sound at Cypress Waters ends its night with a colorful laser light show accompanied by Chicago tribute band, Windy City.
Cost: The event is free.
monday july 4th
Exhibition
After a two-year hiatus, one of Dallas' biggest exhibits returns to Fair Park with plenty of State Fair food for sale, plus a fantastic view from inside the Cotton Bowl stadium. An afternoon and evening of festivities (including music from the United States Air Force Band) culminate in an elaborate fireworks display.
Cost: Free entry.
monday july 4th
fort worth
Start the evening floating down the Trinity River at the Panther Island Pavilion and gazing into the darkness that will soon end. Bring your own tube or float for this portion, then head out of the water to purchase food and drink from various vendors, followed by an epic fireworks display lasting nearly 30 minutes.
Cost: Free entry.
Steven Lindsey is an enthusiastic eater who has never turned down a craft cocktail, a glass of wine or a cold beer. He thinks dogs are the greatest creation of all time and can't wait for his Covid hair to grow long enough to finally donate to a children's charity. But when it comes to travel, he prefers people to leave their kids at home and that's why he founded Travel like an adult.