5 tips for finding a first-class example of a used Porsche Macan.
Content of the article
The Porsche Macan has been on Canadian roads since 2014. Sitting under the larger Cayenne, the Porsche Macan model line has grown to offer a number of models, configurations and updates over the following years to to offer buyers a wide choice.
Content of the article
Whether you're looking for an athletic, efficient SUV or a rocket-powered driving experience designed for thrilling feats of speed, the Macan lineup has you covered.
Content of the article
Look for Macan, Macan S, Macan GTS, Macan Turbo and other model variants, in ascending order of performance and output.
All models come with All-Wheel Drive (AWD) and a dual-clutch automatic transmission for maximum efficiency and high-speed gear changes. With a set of quality winter tires fitted, the Porsche Macan is a spectacular machine to drive in winter as well.
Contents of this 5-passenger luxury sport SUV included a power tailgate, multi-zone automatic climate control, sunroof, heated steering wheel, climate-controlled seats, premium stereo systems and the full range of performance-enhancing hardware from Porsche, including an active suspension system, drive mode selector, Sport Chrono package and surface-coated brakes identifiable by their white brake calipers.
Content of the article
These brakes use a special rotor coating and pad material to help improve braking performance while eliminating brake dust, keeping the wheels and calipers of equipped models clean and dust free at all times.
Primarily due to its strong sense of style, striking, upscale cabin, and world-class combination of handling and ride comfort, the Macan has drawn many driving enthusiasts to showrooms for a closer examination, many of which would go on to call a Macan their very first Porsche.
Check out the links below for more information, specs, comparisons, reviews and news on the 2015-2022 Porsche Macan, and read on for five tips to help you find the best used Macan possible. for the dollar.
Your Questions Answered: 2022 Porsche Macan

First Drive: 2022 Porsche Macan and Macan S
Content of the article
Model Year Matters
The first generation Porsche Macan underwent various updates and modifications throughout its life cycle.
The 2016 model year saw the Macan fitted with a new communication system, new LED lighting technology, and cosmetic changes inside and out. The very athletic Macan GTS also went live for the 2016 model year.
For drivers looking for maximum fuel efficiency, a four-cylinder engine became available for the 2017 model year, joining the existing V6 engines. The 2017 model year also incorporated Porsche's next-generation Porsche Communication Management (PCM) system.
The 2019 model year saw a major update to the Macan's fascia, along with new colors, wheels, and interior design touches. For 2020, the Macan Turbo got improved performance, thanks in large part to a revised engine, larger brakes, improved transmission tuning and targeted hardware and supporting software upgrades.
Content of the article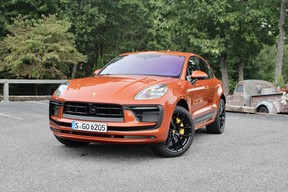 Meet the community
Online owner communities are a great place to learn more about the used vehicle you're considering and to hear the opinions, advice and experiences of existing owners. To help you with your research, consider checking out an owner forum like MacanForum.com, an online community of Porsche Macan owners around the world.
Countless discussion topics range from the most popular tweaks to quick fixes for common problems. Potential owners can ask questions and make new connections to help them gather more information before buying or deciding which model is right for them.
You'll find plenty of Macan-related discussions and a community happy to share tips and experiences with curious Macan shoppers.
Content of the article
Porsche Macan oil leak
Before purchasing a used Macan, buyers are advised to carefully consider a few areas of potential concern. Some owners have reported oil leaks caused by loose engine cam seals, timing cover bolts, and even head gaskets. In most cases, these issues were resolved under warranty and seem to mostly affect earlier models of this generation.
It's important to note that most owners don't report oil leak issues, but since out-of-warranty repairs can be expensive, be sure to pay close attention to your Macan's oil level at all times. and have a professional inspect for the possible presence of oil. leaks before buying.
Check the ground under the used Macan's parking space for visible oil drips, and inspect the front and bottom of the engine for signs of oil seepage. If you notice any, have the vehicle seen by a professional before buying.
Content of the article
Elsewhere, ensure you are able to open the fuel filler door when the vehicle is unlocked, confirm that a spare tire is present and in good condition, and check that the hood and front doors have no no signs of paint or body damage around their seams, which may be a sign of a clearance or alignment issue that needs to be fixed.
Examine the operation of the rear view camera, confirming quick engagement and a clear, crisp image.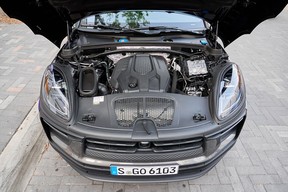 Macan Turbo mid tube brackets
Some Macan Turbo owners have reported exhaust system issues; most did not. Reported issues include broken muffler baffles and failing welds on a metal bracket that connects and reinforces the two midpipes of the engine's front exhaust system. The result of either of these issues is likely an irritating buzz, rattle, or metallic vibration that may become more apparent at higher rpms and under load.
Content of the article
When testing the Macan Turbo you're considering, be sure to listen carefully for these potential warning signs, ideally revving the engine in park and accelerating briskly several times, with the windows down. The exhaust sound should be smooth and mellow, not buzzy and rattling. If you hear anything that sounds out of place, have the vehicle seen by a technician before purchasing, as replacement parts may be required.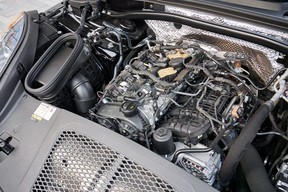 Air suspension check
Some Macan models are equipped with a height-adjustable air suspension system.
Some owners have reported issues with this system as their Macan has aged; most did not. During your test drive, determine if the Macan you're considering has an air suspension system, and be sure to keep it working at its own pace, adjusting the vehicle's ride height several times.
Content of the article
Be on the lookout for any warning or error messages that may appear in the instrument cluster and ensure the vehicle is able to adjust its ride height between each level within seconds.
A Macan that looks "slammed" to the ground and drives terribly, could be suffering from one or more faulty air suspension components and probably needs a new air compressor. Have a technician investigate before buying, to avoid unpleasant surprises.
These tips are designed to help tester buyers more easily identify potential issues reported by some owners. A careful test drive and buying process focused on the above areas can help you find a first-class example of a used Porsche Macan.